Need a barcode? get it for free!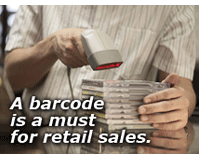 Place an order for one of our
replication packages
or
duplication packages
and we will provide you with a certified barcode for free! that will allow you to register your release with soundscan, retailers and distributors. Why spend $750-plus $150 in annual fees-when you can get a genuine barcode for free?

Simple, smart, save money…

When you order any duplication / replication package, we'll give you a unique barcode that can be tracked by any distributor or retailer inventory system. And once you register your barcode with SoundScan, your sales records will be tracked.
| | |
| --- | --- |
| | "I was pleased with the fact that I could order spine labels seperatley from a CD order. I had a hard time finding a company that would do that. I would like to do more business with ABET DISC in the future do to the fast and easy service I was provided with. Tony was very helpful and made placing my order a painless task…thanks again…" -La'Aerial |
General Barcode Information
The majority of stores require a barcode to be on the tray card, this is how retailers and distributors track sales and inventory. You can apply for a barcode from the Uniform Code Council 1-800 543 8137. Make sure you leave a couple of weeks as the process takes some time and there is a fee of $750. If you are only going to sell your product at gigs or through alternative means you really do not need a barcode on your product. Remember you can always get barcode stickers at a later date.

Get a Free Barcode today at AbetDisc.com
CD Duplication is an excellent option for the production of short-run low quantities from 10 to 300 discs at low cost. It's a favorite among indie artists and small companies.  There are many different uses for CD Duplication; CD Duplication can save you time and money. Whether you are promoting your music or a presentation report in the form of CD or software/driver that needs to be duplicated and distributed.
Music industry has been shaping the world for centuries. From classical music in 17th and 18th centuries, to Rock, Pop and rap songs of today.
At first, musical notes were written down on paper, so that you could play them at home on your own instruments. Then, in 1877, Thomas Edison invented the phonograph, which used tinfoil, and later – wax-coated cardboard to record sound. We saw the ascent of vinyl records in the early part of the 20th century, then came audio cassette tapes, followed closely by compact discs, and then, finally – digital files like MP3s.
All through history, musicians have been releasing their incredible albums through the most readily available sound storage medium of the time. But what about today's emerging artists? At iApp Design, we believe that apps are the next media platform for independent musicians and music labels. Soon, you will find new albums being released as apps, which would also add a ton of interactive options to the overall experience and enjoyment of music.
More.
Oddmodern – The Ungreatful Gatsby
Please join us in congratulating "Oddmodern" December 2011 Abet Design Contest Winner!
Blue Meriidian – Skint & Shattereds
Please join us in congratulating "Blue Meriidian" November 2011 Abet Design Contest Winner!
To all contest participants, thank you for your submissions. The designs we have received were very impressive. Once again, we appreciates your participation in the Abet Design Contest.
Congratulation!
Abet Disc
Do you remember what you thought the year 2011 would bring you? What changes it will make in your life? As we make our New Year's resolutions, we know that some of our desires will not come to fruition…but we also know that we will try our best to make things happen, and hope for every new year to be better than the previous.
With another year almost gone by, take a look back at 2011 and remember all the great things it brought you – even if you have to dig among the not-so-great ones to find them.
A great opportunity for musicians to promote their music to art lovers worldwide!
Your music can be featured within our new, beautifully designed Photographic Journey Apple iPad app,
which gives you the opportunity to be heard by a wide audience of people who enjoy and appreciate art.
Greeting Card Printing 5 x 7 greeting cards help you keep in touch with customers and promote your business, products or services. Abet greeting card printing include envelopes and thick 14 pt card stock. Choose UV coating for high gloss and durability and Matte for a flat satin finish.
Photographic Journey app free download available now!
From one of the best up-and-coming artists Aeron Nersoya, the Aeron Photography app brings you captivating images from around the world. It reveals the most intricate details about historical monuments, unique architecture, nature, and of course – people!
For more info visit:

Please join us in congratulating Yacine Boulares our August 2011 Abet Design Contest Winner!
To all contest participants, thank you for your submissions. The designs we have received were very impressive. Once again, we appreciates your participation in the Abet Design Contest. Congratulation!
Abet Disc
Please join us in congratulating Brocken Spectre our March 2011 Abet Design Contest Winner!
To all contest participants, thank you for your submissions. The designs we have received were very impressive. Once again, we appreciates your participation in the Abet Design Contest. Congratulation! Abet Disc